Happy June to all our Creators! 🌈 🌞💜
Our team has been working hard to improve the current ePlay experience by polishing existing features & introducing a few new ones - here's some that we wanted to share with you all:
🪄  New floating Navigation Bar

We've simplified your ePlay experience by introducing our new floating Nav Bar! This was designed with helping you navigate through the site in a more seamless way in mind.
Here's a breakdown of what each icon does:
🏠 The Home Icon is where users can browse through all live cams & sort through categories to explore all the current live streams.
⭐✨ The Stars icon is a dynamic page where users will come across recently posted content, trending posts, and popular live streams.  
➕ The Plus icon will prompt you to do what you do best - create! 🎨 When logged in, you'll be prompted to post content or go Live!
💌 The Message icon will be your quick-access to your PMs inbox.
🤗 Your avatar will serve as your Launchpad - a short and handy side-nav that serves as an overview of your most important ePlay pages.
🍔  You can also access this menu by clicking on the Hamburger icon on the top-right of the site.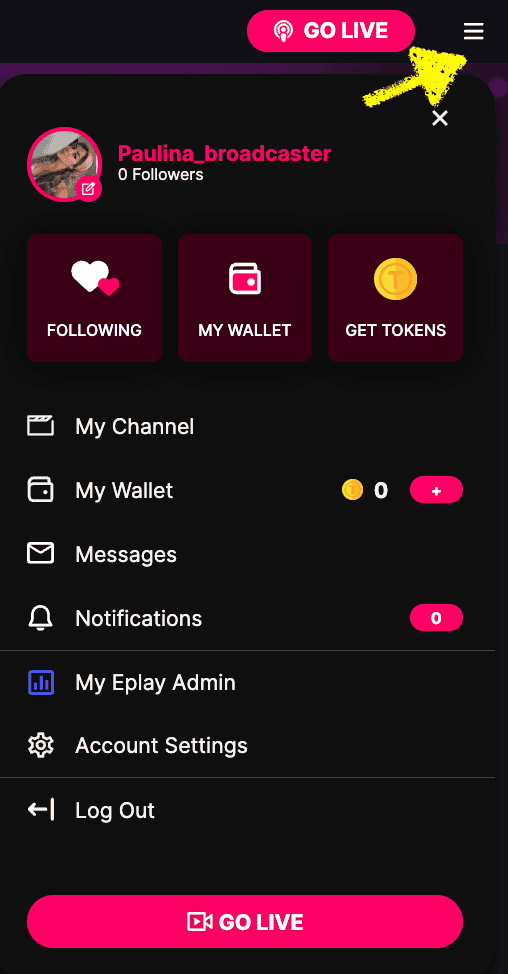 🔔  New Chat Notifications
We've also released new automated notifications that are sent out to all users to push a Streamers' Lovense Levels, Tip Menu & Goal Status.
These notifications were designed to promote the audience to play - so they'll specifically be sent when there's little or no activity in the chatroom.
🌀 Portal.to polishes
Thank you to everyone who's launched their portal! For those who still haven't done so, visit our Portal homepage to get started.
The updates to Portal this month were mostly on my.eplay & focused on improving your set-up experience, so you can safely share your Portal QR Code / Link across all channels & begin growing your ePlay channel! 🚀
We've also extended our Portal Survey to give all Creators more time to play around with it & come back to us with feedback. 💌
⚠️ Reminder: We'll be choosing 5 Creators to win an e-card (Visa) who share their thoughts with us & activate their Portal by completing in this survey! ⚠️
Survey winners will be notified & announced on June 28th.
That's all for now!
As always, don't hesitate to reach out to our team or submit your feedback - we're always here to help make your time on ePlay Easy, Exciting & Empowering. 💖
-Paulina, ePlay Product Manager 🪄
---
Subscribe
Join the newsletter to get the latest updates.
---