Happy Friday!
This past week, we pushed some updates to our site as we work on continuing to improve your streaming experience on ePlay.
NEW "UNSILENCE" FEATURE
We want to empower everyone on the site to have maximum control of their interactions with their audience.
We understand that there are moments when the "TIMEOUT" feature becomes essential to maintain a positive and comfortable environment. However, we also recognize that situations can change, and people evolve.
That's why we're happy to introduce the all-new "Unsilence" feature.
This feature gives you the power to take control of your interactions even further. If you've previously silenced a user but have had a change of heart or wish to re-engage with them, "Unsilence" allows you to easily reverse the action, fostering open and flexible communication in your chatroom.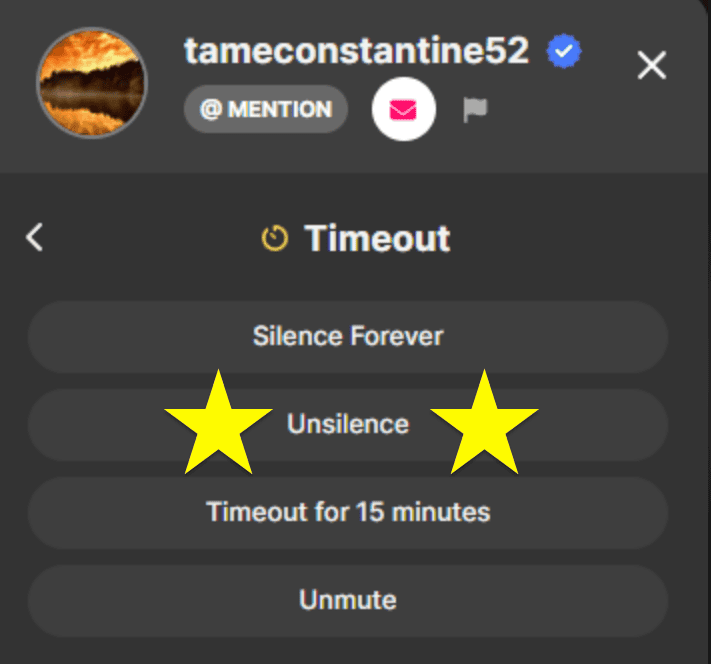 NEW STREAMING DASHBOARD IMPROVEMENTS
In the fiercely competitive world of streaming, a seamless "GO LIVE" toolkit is your key to a successful streaming journey.
It's not just about providing an exceptional experience for your audience, but also about effortlessly managing your streaming environment.  
With ePlay's new cutting-edge dashboard, your livestreams will be easier, more fun, and more engaging than ever before.
Why ePlay's Dashboard will take your Streams to the next level:
Streamlined Management: Our dashboard serves as the central hub for all your chatroom settings and beyond. Manage everything from chat moderation to audience engagement in one convenient location, eliminating the need for juggling between different interfaces.
Real-Time Insights: Gain access to real-time analytics, viewer engagement metrics, and audience insights, all within the dashboard. Understand your audience better and make data-driven decisions to improve your content and interaction.
Traffic Surge: The magic of using ePlay's dashboard lies in its ability to boost traffic to your channel. With enhanced management and real-time data at your fingertips, you're primed to captivate a wider audience and keep them coming back for more.
Using our new Dashboard will not only enhance your streaming quality but also supercharge your channel's reach.
Check out our announcement post from a few weeks back for more insight on the new Dashboard's functionality here.
Have any feedback for us?
Please reach out to our team via Discord or visit our Help Desk. We'd love to hear your thoughts!
We aim to ensure all your experiences on ePlay are Easy, Exciting & Empowering. 💖
Be sure to stay tuned, as there's a lot more in store with a host of exciting features and enhancements right on the horizon!
-Paulina, ePlay Product Manager 🪄
---
Subscribe
Join the newsletter to get the latest updates.
---