Our team is excited to share several new features and enhancements that were built with enhancing your experience on ePlay in mind.

Let's get into it!
💖  Introducing our new Streaming Dashboard
⚠️  You can activate your new Dashboard by going to eplay.com/dashboard and select "TRY NEW DASH V2"  ⚠️
The new Streaming Dashboard is your all-in-one toolkit for live streams & account management, serving as a centralized hub for your ePlay performance metrics, news on our latest updates, and much more.
Whether you're streaming directly from your browser or using an application like OBS, the new Dashboard ensures a seamless and effortless setup for your livestreams.
More on the Streaming Dashboard:
You'll now find a handy "last tip" indicator in the header,  for a quick glance into who tipped you last.
Worried about connection drops? Our Reconnect status feature will keep you informed and help you get back online seamlessly.
By remembering your device preferences, like the last camera and microphone you used, you'll be Streaming sooner & saving time during setup.
For those who prefer a mirrored view, you can now easily flip your image to match what your viewers see.
🫧  Enhanced Chatroom Experience
BUYERS-ONLY MODE: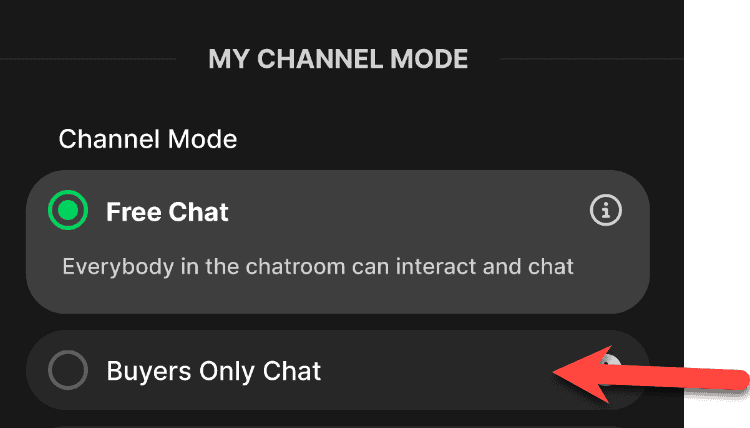 Toggle this mode to limit your chat to be for buyers-only
Other users will be asked to buy tokens to unlock your chat
⚠️ you can also set your channel as hidden if you want to unlist it from ePlay.com ⚠️
Chat Tabs:
Our chat tabs have been optimized for mobile streaming, ensuring a seamless interaction with your audience on the go.
It's now easier than ever to navigate between your chatroom, private messages, and soon-to-come private 1:1 sessions
Your Livestreams will now have an upgraded leaderboard, displaying your top 3 supporters and current active fans inside the chat interface
Play Bar:
We've introduced one-tap-to-access functionality on the play bar - The play bar will display active and inactive games, and will serve as an entry way to set up any game you haven't activated.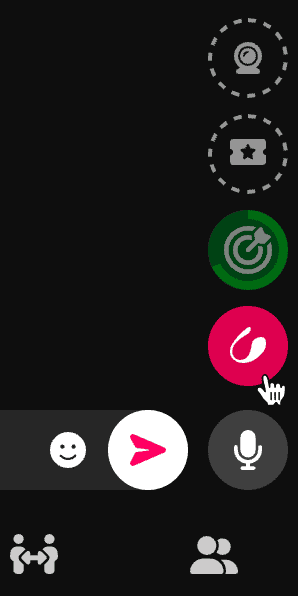 Maximize your earning potential by activating all your Games!
Auto-Messages:
We now offer automated messages that elevate your Fan experience by keeping them informed and engaged throughout your livestream. These automated messages include:
Tip Menu: Your audience will receive automatic updates on your tip menu, making it easier for them to  participate.
Lovense: Boost your Lovense earnings with our new "VIBRATE MY TOY 🪄 " auto message. Fans will be able to click directly on the notifications in chat, versus having to open the Lovense menu!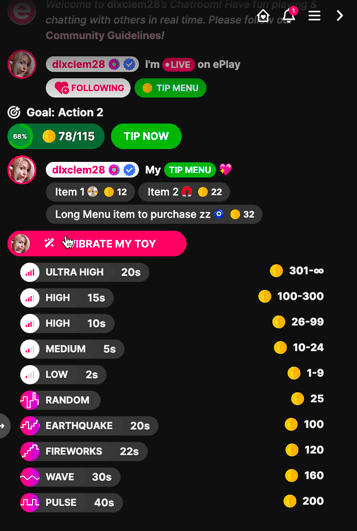 VIP Show: Gather your most loyal fans and invite them to join in on your VIP shows with the help of an auto-alert!
Goal Status Auto Message: Never leave your viewers guessing about your progress. Our automated goal status messages keep everyone updated and promotes easier spending.
VIP SHOW + GOALS STATUS BAR
Easily see the status of your game! Click for access to the settings of each game as well.


These automated messages streamline communication and engagement during your livestreams, creating a more immersive and interactive experience for both you and your fans.
 💌  Redesigned "Create a Post"  Interface
Our Product team has also been working on adding additional functionality to help you passively monetize on ePlay.
We're starting off by releasing a polished version of our "Create a Post" interface.
You will now have more control, and a smoother posting experience when sharing photos / videos / text posts on ePlay.
That's all for now!
Have any feedback for us?
Please reach out to our team via Discord or visit our Help Desk. We'd love to hear your thoughts!
We hope our dedication to elevating your streaming experience is evident in these updates. We aim to ensure all your experiences on ePlay are Easy, Exciting & Empowering. 💖
Be sure to stay tuned, as there's a lot more in store with a host of exciting features and enhancements right on the horizon!
-Paulina, ePlay Product Manager 🪄
---
Subscribe
Join the newsletter to get the latest updates.
---