Portal.to was designed to help our Creators maximize their ePlay engagement through a seamless, Safe For Work interface.  
For any creator looking to grow their ePlay fan-base & earnings, while still safely promoting it across their social channels, Portal is the perfect solution.
Why now?
While working towards making ePlay a more fun & empowering platform, our team has gathered feedback from Creators, which led us to the following conclusion:
Sharing anything outside of "normal" (links & content) always leads to a dead end, as traditional Social Media platforms tend to punish any sort of risque users.  

To those Creators on their 4th or 5th Instagram account: We see you – so much, in fact, that we built Portal in the hopes of removing the difficulties that sharing NSFW links on social media holds, yet alone trying to monetize NSFW content.
Your ePlay content takes center-stage with Portal Widgets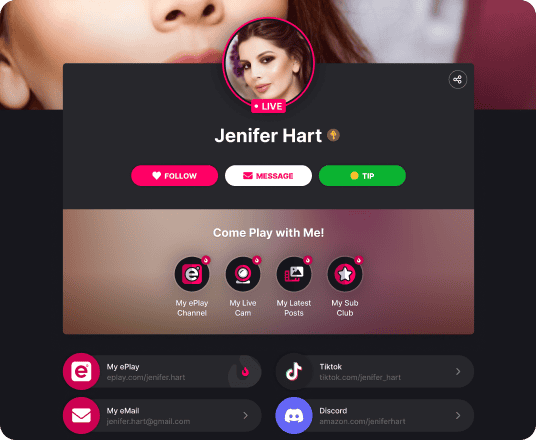 Powered by all your existing ePlay content, Portal.to is easy to set up & share. Your main list of links will be an exact copy of the Social Connections you already have on your ePlay Channel.
If any of those Social Connections have a paywall, it will also be gated for anyone visiting your Portal! 💰
You can choose up to 4 ePlay-exclusive links to pin as Widgets on your Portal.

Widgets are meant to enhance the traffic to your NSFW content - so make sure you pick the top-4 things on your ePlay that you'd like to monetize!
Learn more while entering our Gift Card Giveaway
Your feedback is priceless to us, so we attached a quick survey to some additional info on what Portal's all about & how to set yours up.
We're also giving away gift cards to 10 Creators that complete the survey! Winners will be announced early June – good luck!
That's all for now!
Feel free to reach out to us on Discord with any questions - we're always here to help.
-Paulina, ePlay Product Manager
---
Subscribe
Join the newsletter to get the latest updates.
---