Ghoulian Gore is a non-binary creator making some big waves in the ePlay Community as of late! They have been pursuing their passion for all things spooky since their start in streaming nearly three years ago.
A peek at their ePlay Channel reveals a deep love for gaming, the creation of detailed cosplay characters, a thriving online community known as their "ghoulmunnity," and a growing and successful career for themselves in the adult streaming industry.
If you love video games, Trek, live DnD, gothy babes, or cosplay porn, then Ghoulian Gore is the streamer you've been looking for! Ghoulian Gore prefers they/them pronouns but has no problem with she/her when they have any kind of makeup on.
We are thrilled to announce Ghoulian Gore as our September ePlay Creator of the Month! We are also pleased to share that they have been nominated for this year's "Best Cosplay Model" at the YNOT Cam Awards in Hollywood, California.
Step into this in-depth 13-minute read and get to know Ghoulian inside and out!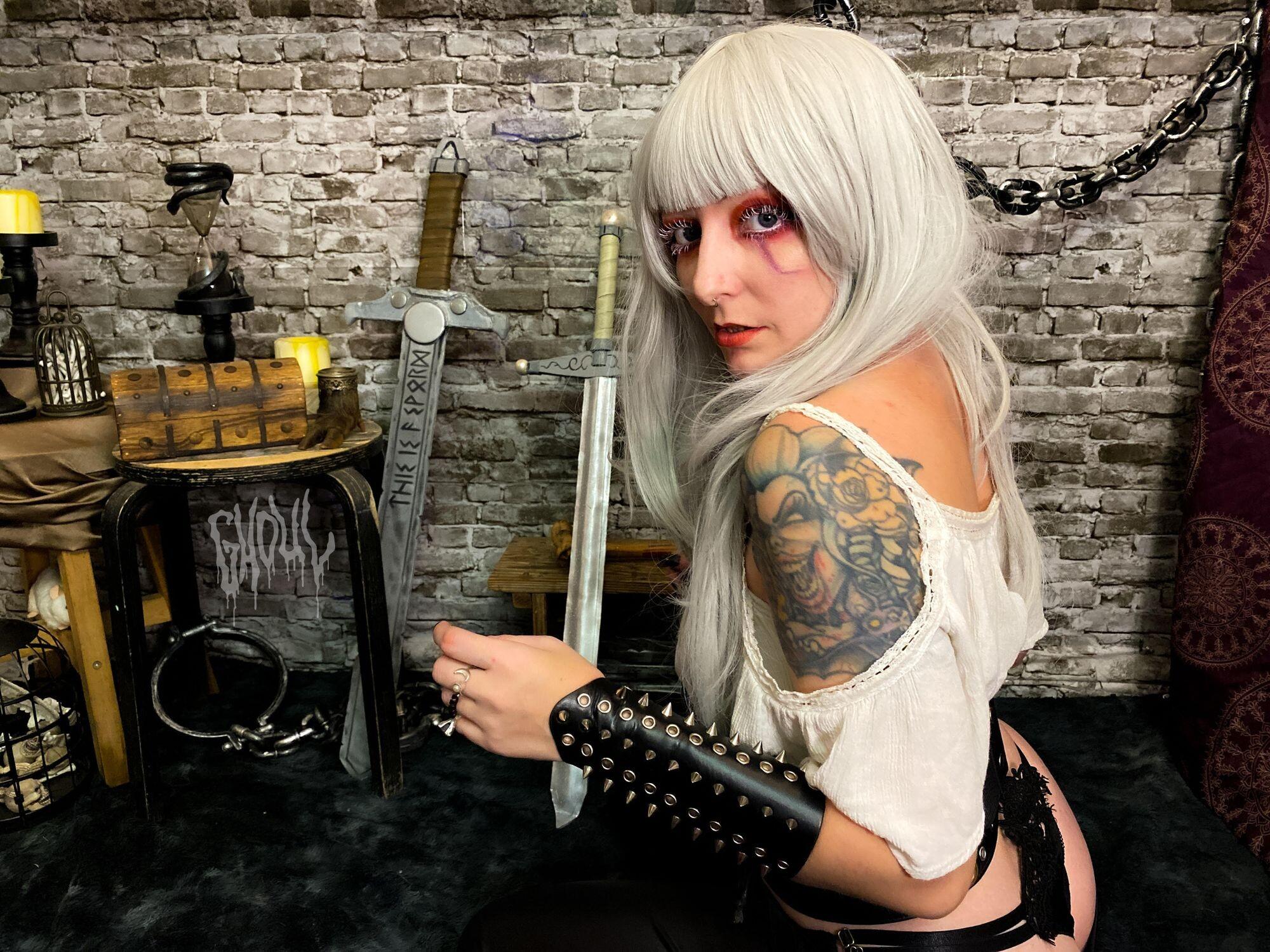 Tell us what led you to stream with ePlay.
I love gaming and hanging out with the Ghoulmmunity members, but there's just something special about doing it naked. I heard about ePlay through the cam community, and I had to look into it myself, especially once I was informed that ePlay is a gaming-friendly site. What officially led me to stream on ePlay was that my weekly Tabletop group (TabletoplessORG) had decided to give it a try, so I got to experience firsthand how the site worked before jumping into a solo stream.

I appreciated the little things like the pop-out chat, twice-monthly payouts, savable tip and goal lists, and much more. Not long after, I started streaming on ePlay on my channel while streaming weekly with the Tabletopless crew.

What is something significant you've been working on in the past year?
Over the last year, I've been working from home as a full-time streamer/content creator. I feel blessed to do this because I have chronic pain that prevents me from working a regular job, even part-time. The days I'm trapped in bed are perfect for editing/emote art, and low-pain days are for live streaming.

I have been using my creative drive to make lots of cosplay-themed smut videos and full porn movies, as well as live stream gaming when my body is able. As an artist who loves creating costumes and sets, I have been using my skills to create content on all platforms.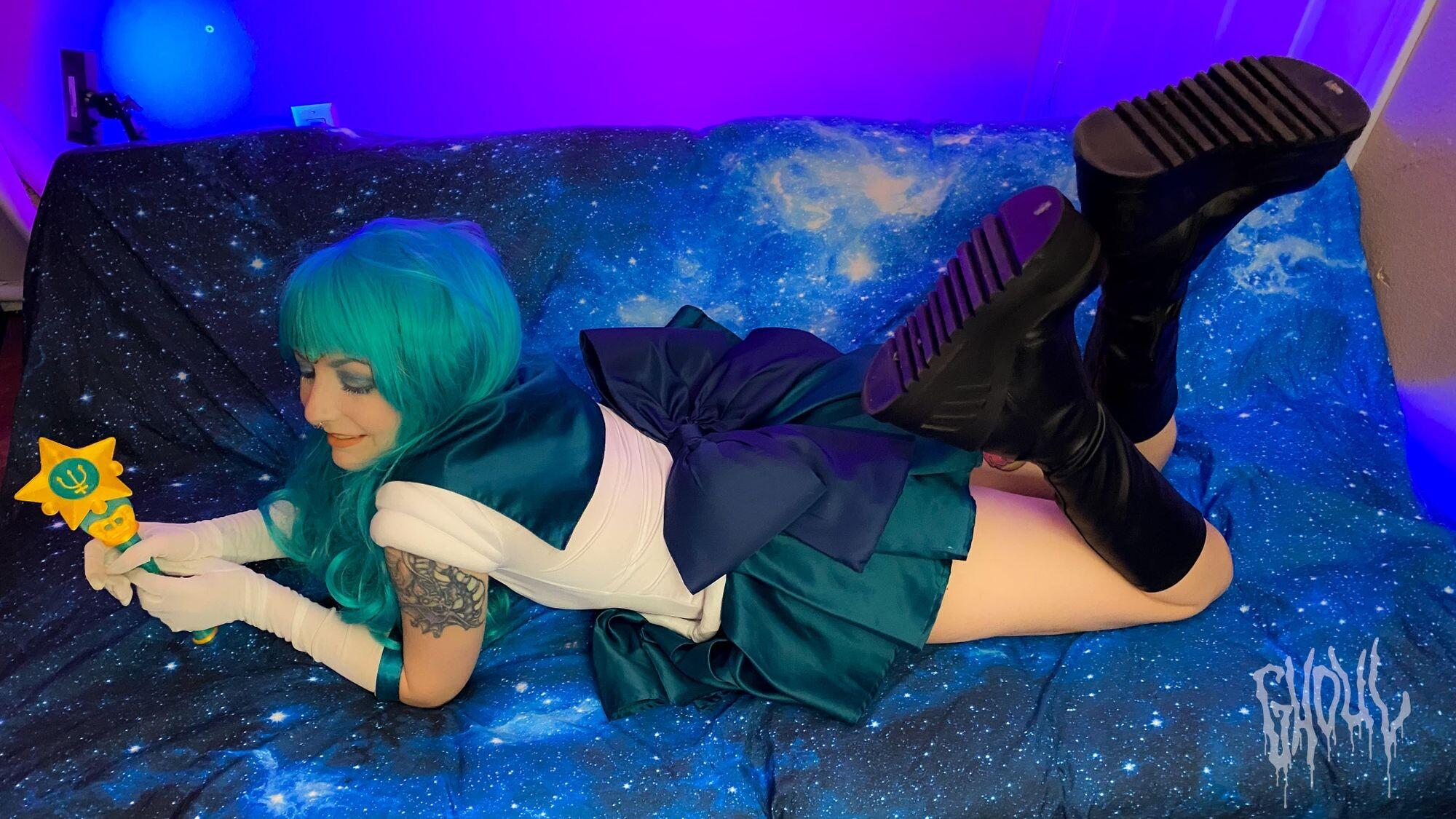 I also stream DnD and other tabletop games weekly with a fantastic group of amazing models/artists called TabletoplessORG. It's incredible to work with like-minded individuals and play in an interactive live stream setting where tips influence our game. As a nerd, I think it is the coolest thing ever, and I look forward to our games every week.
What's something exciting to happen to you this year?
The biggest thing to happen is that I've been nominated for Best Cosplay Model for the YNOT Cam Awards 2022. To be nominated for something like this is truly a dream come true. I will be attending in person and representing ePlay. Thank you, Ghoulmmunity, Tabletopless fans, and lurkers! I couldn't have gotten this nomination without each and every one of you.

As a creative individual, I put so much time and effort behind the scenes, from DnD/tabletop costumes to makeup looks, sets/lights, stream alerts, and so much more. I am my own editor, director, star, and videographer, so thank goodness I have a partner to help! I am a one-person production team who works their booty off, so taking home the "Best Cosplay Model" award would be amazing, but just getting nominated is a huge accomplishment.
What type of characters and outfits do you enjoy doing for Cosplay?
I love cosplaying for my weekly tabletop streams (TabletoplessORG). It is so fun to be able to bring my character to life. I'm excited we are playing VtM again, and I get to be a vampire.

I have a drawer of hats, ears, and headbands I love to wear while gaming, but randomly I'll do full-on cosplay streams. I'll dress up in a costume that fans got to vote on to decide which they want to see on my Twitter posts.

I even love streaming in just my Venom onesie, my Sailor Neptune dress, or my Beverly Crusher jacket.

I also think I might have to do a "Fashion Souls" night where I dress up like my Elden Ring character.

Once I finish my Firekeeper cosplay, I will be attempting a few DS3 bosses in it. I recently finished Cyberpunk 2077 while dressed up in a Cyberpunk cosplay, which was awesome!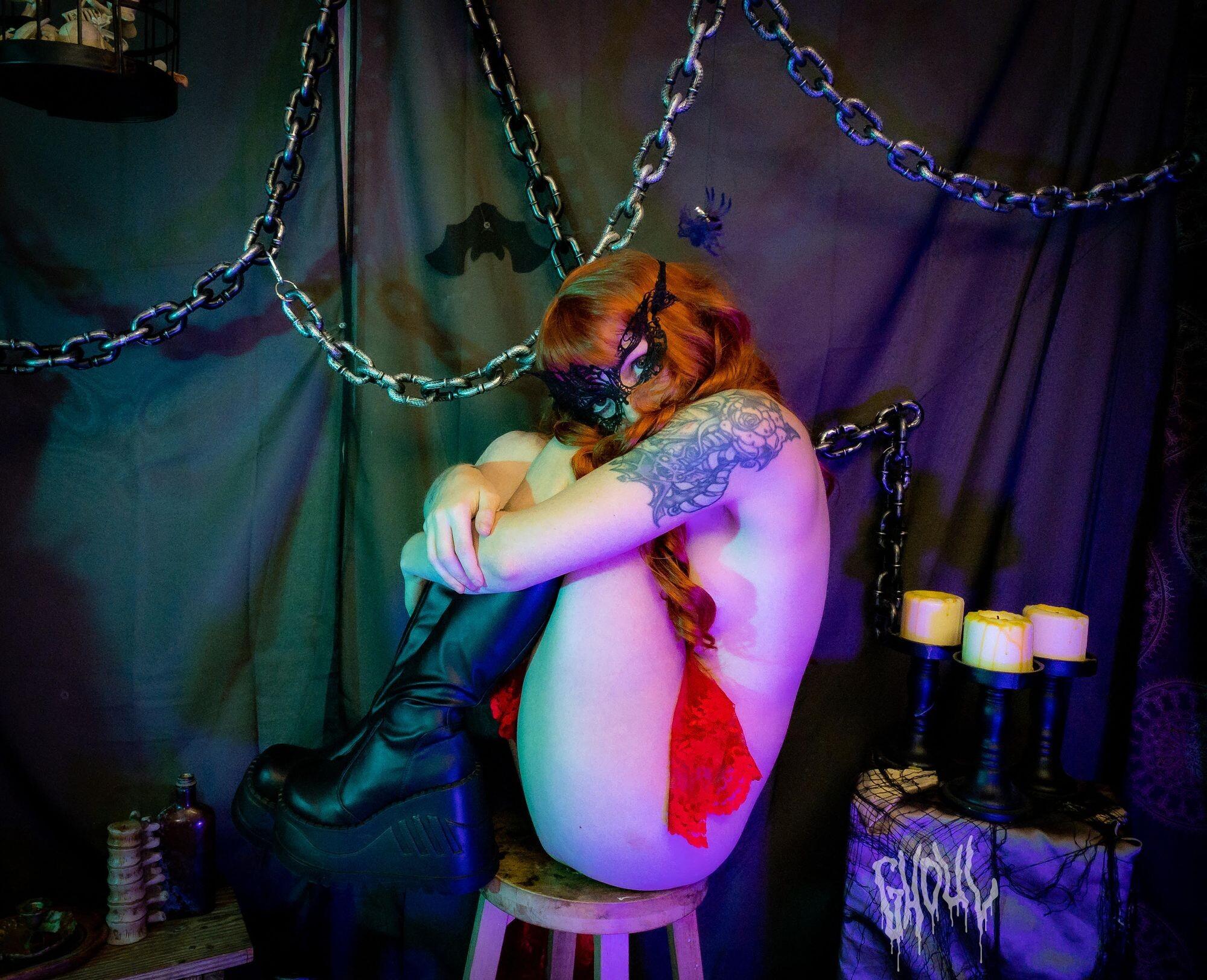 What's something exciting you're doing on your channel that fans should know about?
I can't wait to show you all the Firekeeper cosplay that is about to be finished. It is my first 100% handmade cosplay, and my partner will be in costume, too, for the spicy video. Praise The Sun \[T] Join our  weekly naughty tabletop game; we stream every Wednesday at 4pm PST on ePlay. Join us and become a Chaos God; gifting us with rerolls, advantages, and even disadvantages if you desire.

We have two episodes left of our Cyberpunk RED series and then will be playing some more VtM in the fall while continuing our regular DnD show where I get to play a Triton sorcerer smuggler who is obsessed with fire.
What inspired you to get into streaming and cosplay?
I saw the potential in gaming naked! As someone with chronic pain, I was trapped in my room with no way to make an income. Streaming not only helped me make my rent, but it also helped me socialize.

Before my leg/si joint/pelvic pain took over my life, I was a very social individual. I'm a self taught painter of 10 years, and I would paint live at events, support friends at shows and even sell my artwork and crafts. It became tedious, and selling artwork was never consistent enough.

I found streaming at the age of 30 and would play video games with naked and naughty goals. I'm 33, still creating content with an upgraded stream, and using my art knowledge to produce the best quality content possible.

I have no plans to go anywhere and am so happy to have found a platform where I can stream games and get naked. My goal is to keep upgrading and getting even better at what I do. It's lovely to have found community in all of this.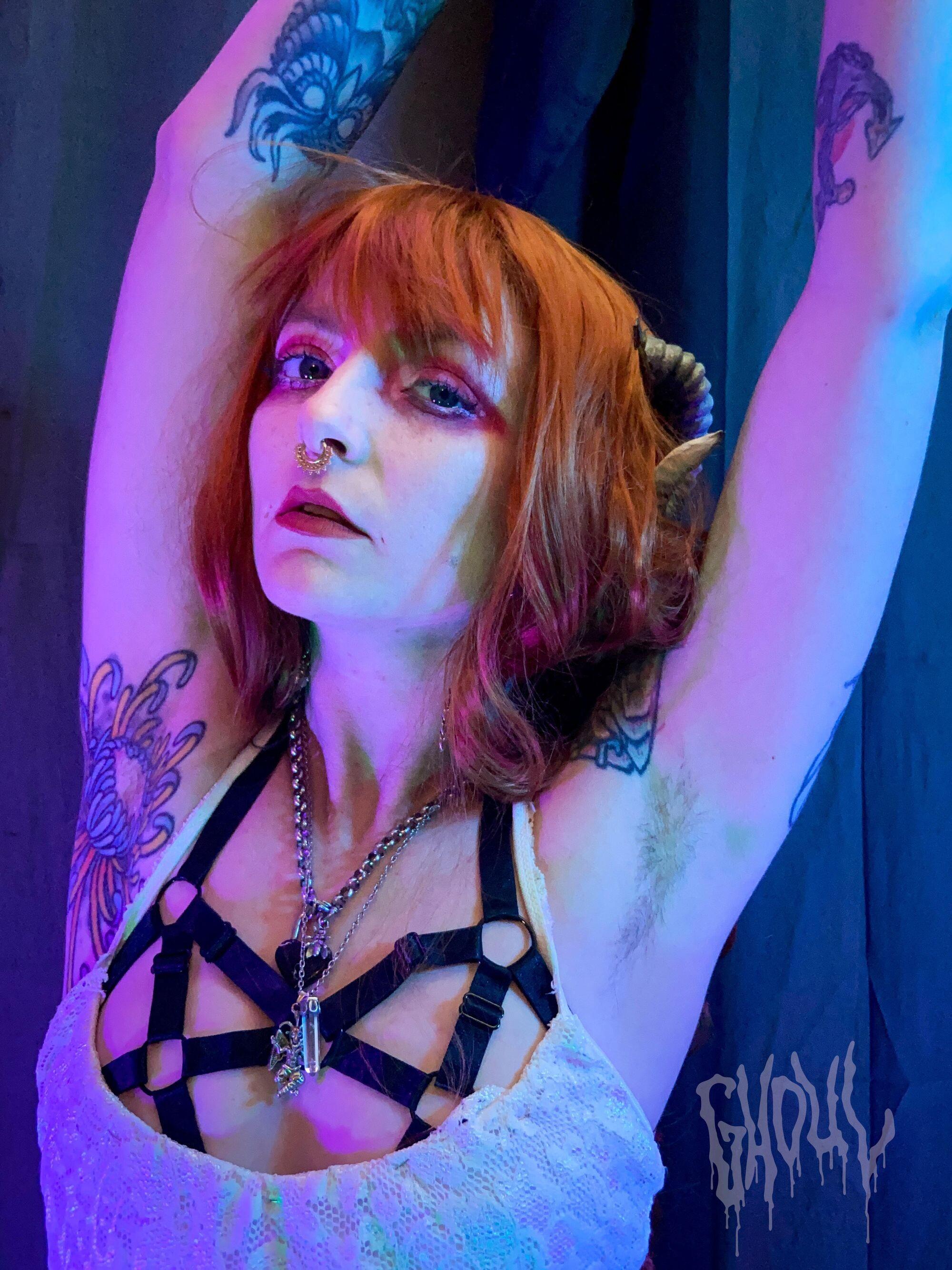 Do you have any career goals that you've set for this year in terms of your success at ePlay?
My goal is to continue to make my stream better over on ePlay. I'm working towards adding a second camera to my streams (even if it is just the same c922 logi I already have). Since I got my stream deck earlier this year, it has helped me spice up my stream. It would be nice to have a second camera to switch between and to take advantage of during my streams.

I also have my eye on a few Lovense toys to add to streams. Imagine the Lovense Hush going off during a Dark Souls or Elden Ring Boss?!

Game-wise goals, I plan on going back to Dark Souls 1-3 and playing them as a magic class. I am doing my first-ever mage play-through on Elden Ring, which has inspired me to do them all. I plan on uploading all the past Elden Ring NSFW streams to my page for my subs to rewatch.

I am also continuing to draw emotes for my ePlay Sub Club, hoping to hit over 50 channel emotes. It is so fun being able to draw whatever I want for my chat to use while I'm live. I can't wait to see what else ePlay adds.

I have a future goal of doing live painting on my ePlay channel and adding end goals to paint on myself. That is something I will be able to do after I address the hand pains I've been dealing with recently.
Who's someone you've looked up to in the industry, and what about them do you find inspirational?
I look up to Frankie Vanian, aka honn4yxmilk, because they are a gender-fluid creator who inspires me non-stop in this industry. I love that they consistently create quality content while remaining true to themselves. Frankie is just as beautiful on the inside as they are on the outside.
Who's someone you'd love to collaborate with, and why?
Oh goodness, I would love to one day work with Aurora Skye making cosplay porn! She is so breathtakingly beautiful, and I have had a huge crush on her since I laid my eyes on them.
How have you given back to the ePlay Community and the industry?
ePlay is a lovely place to stream, and the support team responds within minutes via Discord. I try to uplift other creators by reposting them and commenting on things to help boost them.

We creators must look out for each other in the industry because, unfortunately, as sex workers, we are still discriminated against (especially online). We need to support each other while we are constantly being de-platformed over and over again. I also have a Discord server where I allow creators to advertise their fan sites and promote their streams.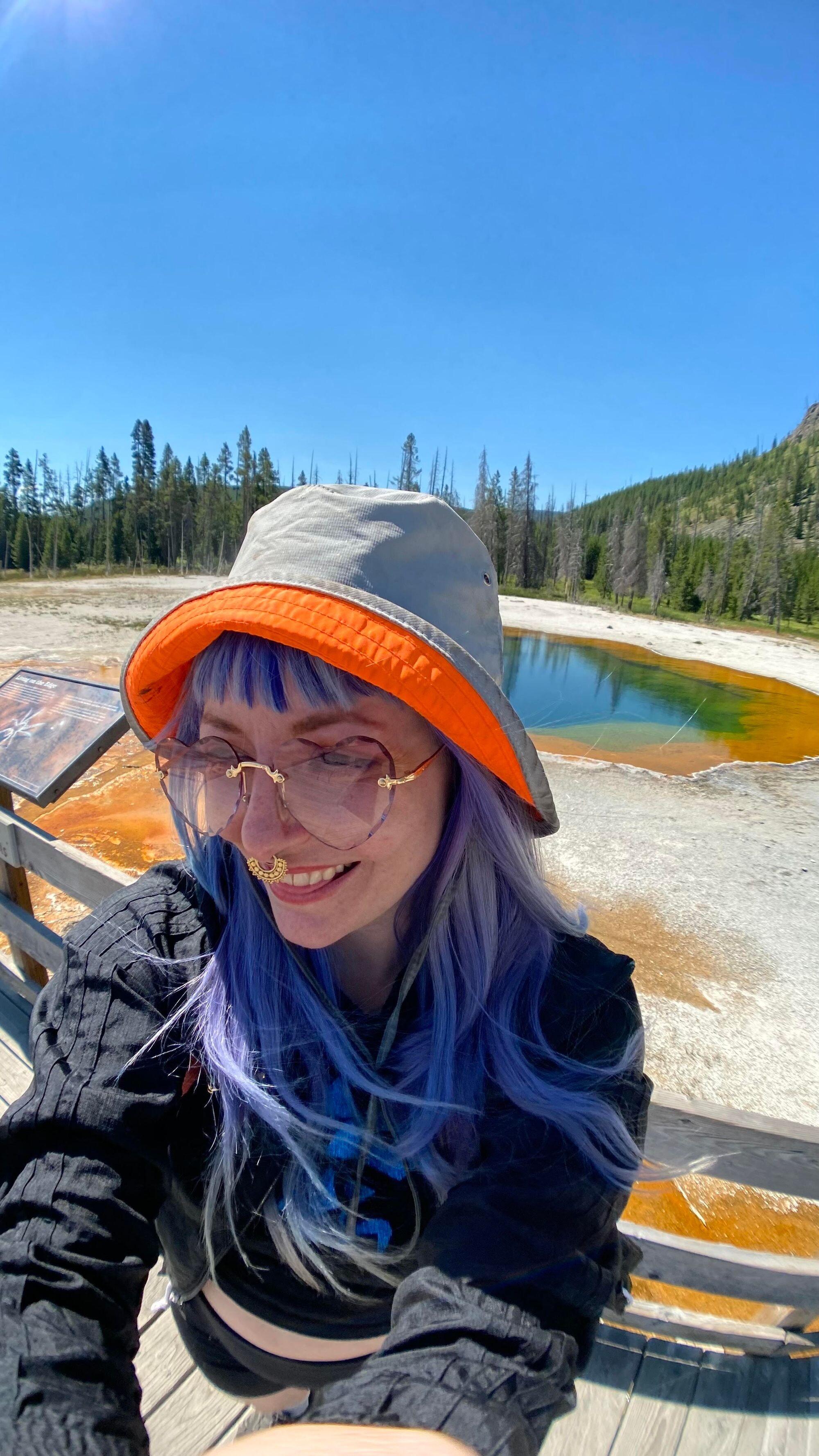 Tell us one thing that most people don't know about you.
Most people don't realize I am not very tall! I am, in fact, 5'1" and wear platforms whenever I leave the house IRL.
Do you like to geek out on any shows or hobbies?
I love Star Trek (all of it, new Trek, old Trek). Like, seriously, we could talk about it for hours, especially during a stream. On top of Trek, I love playing DnD and tabletop games. I can nerd out on my PC/PS4/Switch for hours playing video games. My partner and I also own every Nintendo console and each version of Mario Kart. I enjoy having Mario Kart tournaments in my backyard on the projector.

I am a huge Deep Space Nine fan, from Benjamin Sisko as captain to the fact that it is a station guarding a wormhole. It is all so interesting to me, plus Jadzia Dax is my all-time favorite charter. Not only is she hot, but I love the Trill species and that they have a symbiont that holds past lives within it.

As a nonbinary human, I love how Dax's past friends were when they knew Dax as Curzon Dax but had no problem accepting Jadzia Dax without skipping a beat. It is beautiful. Also, my love for Data is so strong; how he cares for his cat, Spot warmed my heart.

I love Lower Decks, out of all the new Trek series, which is something you should give a chance to if you've been avoiding them. In my opinion, DISCO is just a space show that can legally use Trek lingo, but I will admit Strange New Worlds was pretty good, and I'm excited for Season 2.

My favorite Captain switches between Picard and Sisko; it really depends on the day. Plus, I appreciate that Captain Janway stayed true to the Star Fleet rules and regulations even though her ship was propelled over 70,000 light-years into the Delta Quadrant.
---
Subscribe
Join the newsletter to get the latest updates.
---