We've just released some important updates, new features, and bug fixes on ePlay! Over the last few months, our team has received a ton of feedback concerning the following:

Making loading times faster
Making ePlay more user friendly
Helping boost traffic to creators' channels

ePlay takes a user-first approach when building new features and making improvements to the site. We understand that major changes to the site can feel overwhelming at first, but rest assured, our team is here to help!

Our latest release includes updates to optimize a better overall experience for both fans and creators while also taking the feedback and suggestions we receive into account. So what exactly did we do?

Made browsing and finding new content easier and faster than ever!
Enhanced our "Advanced Search tool
Improved existing features


Read on for specific details to see exactly what we changed this time around and how it can benefit you!


1. We've Designed a New Advanced Search 🔎

Gone are the days of feeling overwhelmed by too many options or worse, annoyed by content you're not looking for. Our new live channel search was designed to tailor your ePlay experience to exactly the content you like best!

P.S. The new search feature was a really big task, and our team is still ironing out some of the kinks!

🔄 With the recently released Streamer Personalization controls that allow for "categories" to be set for livestreams, users will also be able to use those tags for a filtered search when exploring ePlay.

🚨 STREAMERS: Make sure you set your Streamer Tags to help users come across your content when browsing!

👤 Users can access Advanced Search on the top right corner of the homepage (see second image).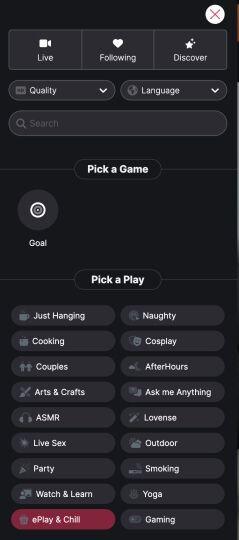 2. We've Added a New "Mark all as Read" Feature Available for PMs and for Notifications ☑️
We know unread notifications can be a burden! On ePlay, you can finally be free of that feeling by clearing all your notifications and/or private message alerts with the click of one button!
🧽 Simply click/tap on the "📥 Mark all as read" button. You can find it on the bottom right corner of your Messages/Notifications tabs.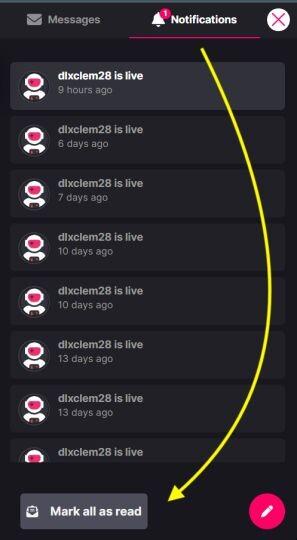 3. Say Hello to The New ePlay.com Homepage! 👋
The new homepage design looks quite a bit different, and here's why:

⚡️It's so much faster! By removing extra padding and spacing, we were able to increase the load time of our site significantly! A faster site = increased traffic for you and your channel! We've received a lot of feedback on the new homepage. Our team is listening and working on improving the experience to better suit your needs!

🏠 Our new homepage allows users to skim through livestreams with ease. If a user hovers over any livestream, they'll get a real-time preview of your stream!
📱About 80% of ePlay's fans prefer to browse on mobile devices! This update allows for a more seamless mobile experience.
🛠️ Users can also choose between two different layouts (more or less content when browsing) by using the button circled in yellow:



4. Custom Emotes are Now Available 🎨
We're excited to announce that you can now add your own custom emotes to your SubClub! So how can you add them?
Just contact streamers@eplay.com, send them your custom emotes, and they'll add them to your channel for you!

☝️P.S. We only accept static images for emotes at this time (no gifs, no animated files).

One last note….
Our feature updates and site changes are fueled by your feedback! If there's a feature you think would be great on ePlay that we don't have or a way you think we can improve the ePlay community, you can always suggest it using our trusty feedback form!
Don't forget to join our Discord, where you can ask questions, get real-time answers and updates from ePlay support staff, and vibe with other ePlay community members!
---
Subscribe
Join the newsletter to get the latest updates.
---